When venturing into the realm of romantic comedy anime, Toradora! is definitely a must-watch. Toradora! makes for a satisfyingly balanced series with its vibrant and engaging attack on comedy, paired with smooth transitions on the overall mood of the scene to dynamically integrate its drama and romance components.
Simply put, Toradora! revolves around the high school life of Takasu Ryūji (Majima Junji) that gets intertwined with Aisaka Taiga (Kugimiya Rie) in a fateful, yet violent, encounter that involves her love confession for Yūsaku Kitamura (Nojima Hirofumi) that totally flopped when she mistakenly put her love letter in Takasu's bag.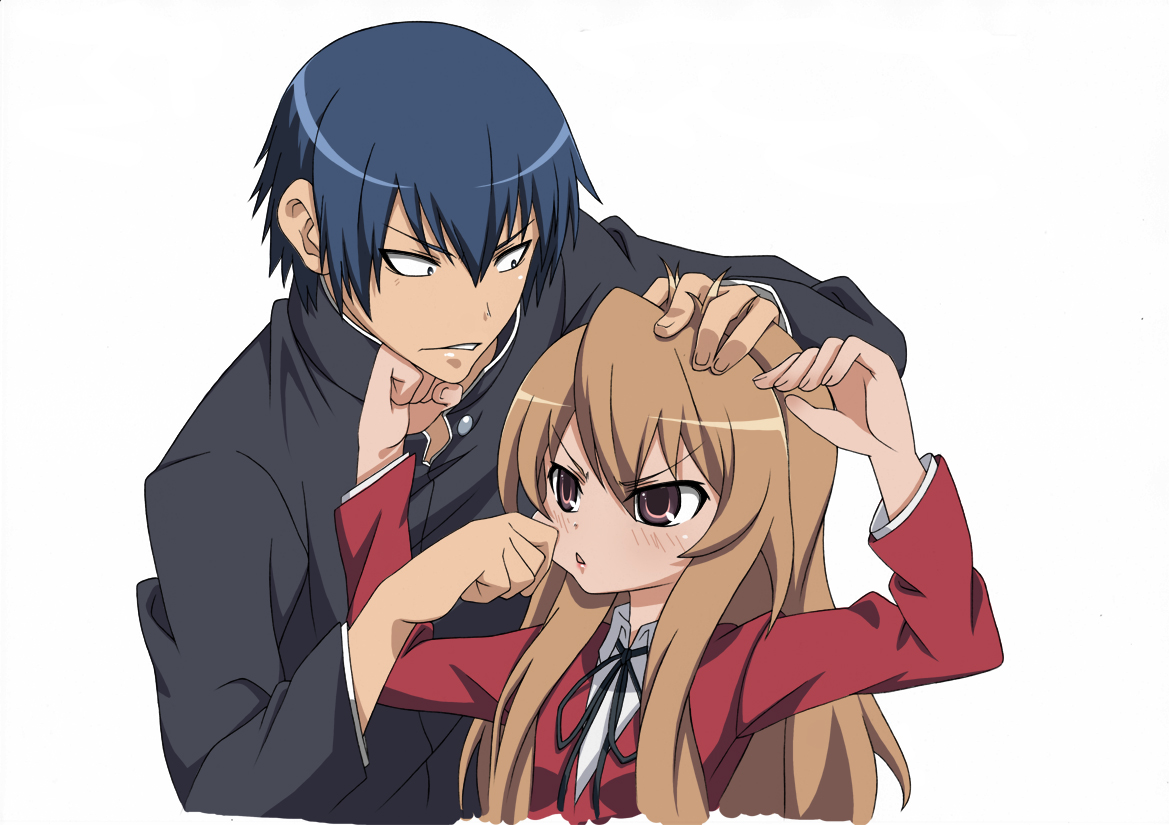 As a 25-episode anime, it has had an averagely lengthy room to be filled by J. C. Staff and was successful in using the first 10 episodes as introductory episodes that didn't rely on fillers. Through this span, Kushieda Minori (Horie Yui) and Yūsaku Kitamura were primarily introduced with regards to how they play in Takasu's and Aisaka's lives. Kushieda is a close friend of Aisaka and is a girl Takasu's been crushing on, while Kitamura is a close friend of Takasu and is a boy Aisaka's been crushing on. This simple and arguably relatable set-up ties these characters together in youthful escapades. A rather symmetrical character set-up, according to their relationships with each other and not yet taking into account their personalities, might get people into thinking that this hypothetically would cause stagnation or downright underwhelming plot flow. But this isn't the case, for a fifth primary character is introduced in the form of Kawashima Ami (Kitamura Eri). Though Kawashima is initially not that likeable and quite antagonistic, later episodes reveal her to be a rather mature point of view as she observes how the story of the other four characters evolved.
While animation is not the main forte of this anime, its comic elements in animation effectively set the atmosphere and also portray characters more easily. Such elements are effects often found in comics and/or manga that indicate a sudden annoyance, shock, etc. that are often found in other anime with a similar vibe. What makes Toradora! stand out though is that it does not rely on shifting the art style into chibi, a cliché on providing comic relief. In fact, it barely even uses art style shifting at all and incorporates the comic book-like effects on the standard appearance of the characters itself.
At first, one would see the five primary characters as the typical bunch-of-misfits trope. Takasu is the responsible neat freak who has good grades and knows how to cook. Aisaka is the violent tsundere. Kushieda is the genki girl who plays sports and has a handful of part-time jobs. Kitamura is the thoughtful nice guy who is part of the student council. Kawashima is the model who uses her charm to manipulate people. However, while other anime fail to depict how such characters developed their stereotypical personalities, Toradora! tackles such issues in its latter episodes, weaving said issues hand-in-hand with the romance dimension the anime aims for. In addition, depiction of such character development in the more dramatic second half was nicely done through voice acting with each character, perhaps with exception of Takasu who has used only either a serious or a mundane tone of voice, dynamically shifting from their tone according to what a scene demands. A good example of this is an arc devoted to Kitamura who, at one point, did flip out in the middle of class, something totally unexpected for a refined and fun-loving person he has been through the story before the said arc.
To wrap it up, Toradora!'s music style is not unheard of. The anime's background music is akin to a visual novel's with easily recognizable happy tunes and the more dramatic ones with piano accompaniment. The two opening themes, "Pre-Parade" (performed by Kugimiya, Horie, and Kitamura) and "Silky Heart" (performed by Horie) is kind of a giveaway on the two halves of the series. "Pre-Parade" is an electronic upbeat song whose opening sequence depicts character introduction, fitting for the light vibe of the first half spent mostly for introduction and build-up.
"Silky Heart", on the other hand is quite a heavy song (even if you don't look up the lyrics, you'll feel it) that foreshadows conflict between the characters. The two ending themes, "Vanilla Salt" (performed by Horie) and "Orange" (performed by Kugimiya, Horie, and Kitamura) are notorious for being the harbingers of cliff hangers. Most episodes of Toradora! end with a rather engaging conversation that would make the viewer want to hear more of, only to be teased by the ending theme's intro fading in and queuing the ending sequence just as the episode got you to the edge of your seat.
Toradora! is a good balance between comedy and drama without one element ruining the other. It is an anime fit for people interested in anime with feel-good vibes. It might make you shed a tear or two though but that's just because of how circumstances within the characters' backgrounds aren't make-believe and could actually happen.